The RENOMIA GROUP enters the Austrian market and has reached EUR 800 million in managed insurance premiums

15. November 2023
The largest Czech and leading Central European brokerage company RENOMIA has entered into a partnership with the Austrian Steinmayr & Co Insurance Broker and is thus entering the Austrian market. With this acquisition, the insurance premiums that RENOMIA GROUP manages for its clients in the countries of Central Europe will exceed EUR 800 million.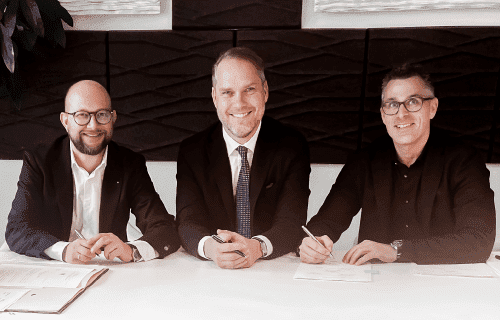 "Austria is the thirteenth country in Central Europe that we have entered and connected with an established family company built on common values ​​and a strong vision for the future. We greatly appreciate the professionalism of the Steinmayr & Co team and the quality of care they provide to their clients. The strength of RENOMIA GROUP, as at Steinmayr & Co, lies in the specialized highly professional services and good relationships within our teams, with clients and with business partners. We want to develop all this together for the sake of our clients, to be a mutual inspiration and to support each other in further development," says Pavel Nepala, Managing Partner of RENOMIA.
By entering a country such as Austria, RENOMIA confirms its leading position in the Central European region and its ability for long-term dynamic development.
"We are happy that we have joined forces with a company that is professional, modern, international and at the same time has a family character and atmosphere. I am very happy that our new partner is a company that, like us, builds on common values ​​such as reliability, great relationships, service, development. At the same time, it intensively develops and implements the most modern technologies in the tools used by its clients and colleagues, thereby improving the quality of the services it provides. We see great potential for our clients both in the use of a large regional and global network, as well as in the possibility of using the know-how of RENOMIA's strategic partner and co-shareholder, the Gallagher company, which is one of the leading global players in the field of risk management and insurance. By joining the RENOMIA GROUP, we will be able to provide our clients with top-notch services anywhere in the world," says Christian Steinmayr, managing partner of Steinmayr & Co.
The history of Steinmayr & Co dates back to 1970 and the company specializes in providing services for corporate clients in industry, hospitality, and commerce. It is a long-term partner in insurance and risk management for organizers of sports, social and cultural events. Its clients are, among others, important Alpine ski resorts and World Cup competitions in skiing. Since 2010, under the leadership of Christian Steinmayr, son of founder Wolfgang Steinmayr, it has also focused on international insurance solutions.