RENOMIA celebrates 25 years in Romania

6. October 2023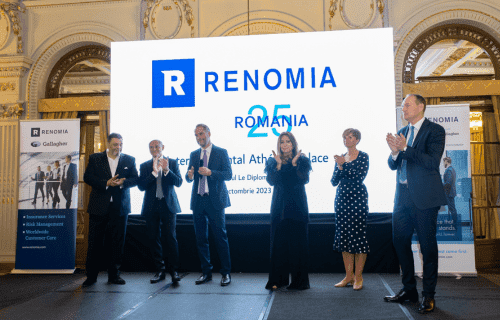 In Bucharest a celebratory gala evening was attended by more than 100 guests – clients, acquisitions, representatives of insurance companies, colleagues from Romanian branches and from the brokerage network we are developing in the country. The guests were greeted by George Grad (CEO RENOMIA Romania) and Marius Moldovan, who have been with us since the inception of RENOMIA Romania, followed on the stage by several representatives from the leading insurance companies operating on the Romanian market. In a climate where adaptability and professionalism are paramount, RENOMIA's enduring commitment to its expertise, competence and fair play approach to clients and business partners has not gone unnoticed.
The overwhelmingly positive reactions from the gala attendees underscore the strength of the relationships and the deep trust that RENOMIA has fostered within the industry. Our company is a significant player on the Romanian market and, according to insurance companies, we are a great example of how to turn challenges into opportunities and opportunities into great client services.
The management of RENOMIA was represented by Pavel and Jiří Nepala - in their speeches they mentioned the values and family atmosphere of RENOMIA, highlighted the strong position of the RENOMIA GROUP in the Central and Eastern Europe region and in individual countries, the readiness to invest in the development of our industry, the importance of know-how and the support of Gallagher worldwide and especially the strong development vision of the RENOMIA GROUP.